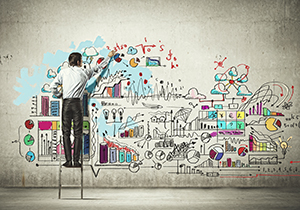 CRM Implementation Best Practices
If you have ever wondered about the process behind implementing CRM you are not alone. Clients are often concerned about making the transition for fear it could take too long and could be more trouble than it is worth. Making sure the transition – from your old system to a new CRM – is a smooth one is the job of your consulting partner. Bryan Sapot, founder and managing partner of Datix, recently tackled this issue in a presentation to the CRM Users Group entitled Implementation Best Practices.
---
A successful CRM implementation is only as good as what happens at each stage before, during and after the project.
Before the Implementation
Define your processes
Know your goals and objectives
Create a well thought-out plan
"The planning portion of the project is immensely important. This is what makes the difference in a project succeeding or crashing and burning," Sapot advised.
---
Define Your Processes
"You have to know your business processes going into the implementation," Sapot added. "If you need to change a process, change it at this stage. Bad processes lead to poor implementations and unhappy users. It is important to differentiate between business processes and software processes."
At this stage, it is important to be focused on defining your business processes.
---
Know Your Goals and Objectives
Get details at this stage about your goals. This could be mean examples of key customers you want to track throughout the sales cycle, better customer service, or pipeline tracking.
What goals are you trying to achieve by implementing CRM?
Assess where you are today.
What are you trying to track?
What are you trying to change?
---
Create a Well Thought-out Plan
Build a Minimum Viable Product (MVP) to begin your process quickly. This type of agile development will allow your go-live time to be faster.
---
During the Implementation
"We recommend being in constant communication with your users. Make sure you let them know where you are in the process," Sapot said. This goes hand in hand with explaining the value of the system to the users. What is in it for them? Getting their buy-in at this stage is crucial. They will be using the CRM daily.
Recommendations:
Get their buy-in on the program
Set benchmarks
Know what you are going to track
Establish the benchmarks for tracking that data prior to go-live
Be concerned about data quality
Enlist your users to clean the data
Change Management
Questions to consider:
How will your company handle change management?
And then how will your employees handle the changes?
"Companies go through change, people go through transformation," Sapot said. "Keeping this in mind will help you best bring your company up to speed with the new system. You really have to understand how people go through this change and help them accordingly."
Stages of Change:
Denial
Rejection
Exploration
Commit or Quit
Employee Buy-in Counts
Recruiting a white knight, an influential person internally, will be crucial to help lead the change.
"Executive sponsorship is important, but in our experience change is easier when driven bottom up than top down," Sapot added.
Think Lean
During your planning and implementation stages, think lean and eliminate waste. Leverage the workflow processes to eliminate steps.
"Watch your users and understand how they use the system," Sapot said. "Moving a field or auto populating values on a screen can seem simple to us but adds huge value to the team."
Training is Vital
We all know that people learn differently and have different learning styles.
A few tips:
Offer multiple training options if the budget allows for it
Shorter training sessions are better than marathon sessions that cover everything
Adults only retain 60% of what they are taught even when fully engaged
Give the users homework and validate they did it
---
After the Implementation
Continual maintenance will ensure system is being properly used. Post go-live support is one of the best ways to keep your team on-track.
Recommendations:
Have an owner after the CRM system goes live
This person or group should drive improvements to the system
Consequences should be in place for not using the system
Have people available to address issues as soon as they arise
Use the road map you built in the beginning to drive what comes next
Measure adoption, then understand and fix any issues
Sit with users on a regular basis to see how they are using the system and eliminate any real road blocks
---
Get help with CRM best practices.
Your Take:
What about this process would help you the most in your CRM implementation? Add your voice to the mix by commenting below.
Suggested: