As an Epicor VAR, we believe that a single integrated system is easier to use and less expensive to maintain than multiple integrated systems. However, we suffer from the same issues many of our customers have; 3 separate systems that hold customer and prospect information. None of these systems talk to each other and data was being entered 3 and 4 times. We decided we need to practice what we preach so last month we moved all sales and prospecting activities into Epicor. We were already using Epicor for accounting and customer management but not during the sales cycle.
Prior to moving to Epicor we used Business Contact Manager (BCM) from Microsoft. If you are familiar with BCM you know it does not work well in team environments, integration is not easy, larger data sets can crash Outlook among other issues. Reporting with BCM can also be a challenge, so we developed reports in Excel that pulled data directly from BCM for analytics. BCM tends to be very "clickey." If a sales rep wants to review the customer history before placing a call it can take 3 -5 clicks to view this information. Three clicks might not seem like much but when you do this 70 – 100 times a day an extra click adds a lot of time. BCM does have its good points, because it is integrated into Outlook it is easy to learn and attaching emails is easy.
Goals:
A simple efficient way to track all customers, prospects and opportunities from a single interface
Reduce the number of clicks
Provide real time analytics on marketing activities and opportunities
Process:
The change over process was fairly simple. I sat down with one of the sales reps and mapped out the processes they were using in BCM. We then talked about how each process could be improved in Epicor and what data needed to be available on the main screen. I created a sample dash board that pulled all the required information on to a single screen. We then conducted a quick pilot with sample data and made some modifications to the layout and functioning of the dashboard. The initial design and construction effort only took 3 hours; the interface was refined over the next week and rolled out in production 7 days after the initial design.
Results:
Sales Interface:
As you can see in the screen shot below all information has combined on a single screen. The sales rep can view a customer, all contacts and all notes associated with that contact from a single screen.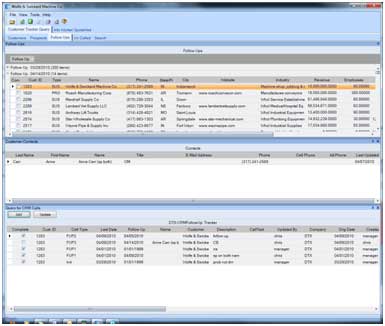 Analytics:
Each sales person and their manager can see their Key Performance Indicators directly from the main user interface. This information is refreshed every few minutes so mangers know if their staff is on target each day.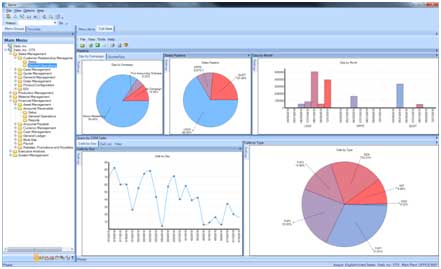 Conclusion:
Feedback from the sales team has been positive. They find Epicor easier to use and more tailored to their tasks than BCM and Outlook. The amount of time required to review an account and make a sales call has been cut in half. Mangers can quickly review each day's activity without the sales person having to provide reports. The pipeline is now much easier to manage and we have greater visibility into pending opportunities. Because of Epicor's industry leading technology it was extremely simple for us to customize Epicor to our needs.
—
Update: Currently Datix Inc. uses Microsoft Dynamics CRM
—
Suggested