Costs and Options Epicor Version 10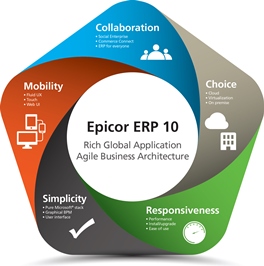 If you're an Epicor user, there's a good chance you've been considering moving to Epicor version 10. At this point, you are faced with a crucial decision: do you upgrade or re-implement? The wrong choice will cost you. With nearly 90 percent of technology projects exceeding budget or deadlines, you could be making the wrong choice without even realizing it. However, upgrading to Epicor version 10 is actually pretty easy, once you detemrine the best option for your organization
Determining your costs and options when moving to Epicor version 10 can seem daunting at first. You are deciding the future of your company and are ensuring your path toward greater revenue and efficiency will be a smooth one or one marked with constant, costly struggles. Many of our clients come to us looking for a clear understanding of whether it is better for them to upgrade or re-implement their ERP software. We remove the guess work by giving you a better understanding of what to expect with either approach. Here's the information you need to know.
---
Know What to Expect
To begin, we would like to have a clear definition of our terms: "upgrade" and "re-implementation." A few of the high level differences come about in the form of project expectations, data transfers, process changes and customizations. An upgrade is the process of transferring your entire database – with historical data – from an older version to the latest version of Epicor. The re-implementation process involves reviewing and importing "clean data" into the latest version of Epicor ERP. Accessing the historical data is possible most often through dashboards that are created in the new system. Re-implementation will ultimately yield two databases.
---
When to Select One Approach Over the Other
One of our clients – an automotive key tag manufacturer – decided to upgrade their ERP; intially. They were running on Vantage 8 and thought that the change from a more recent version of Epicor to the latest should come with minimal challenges. Their primary reason for making the upgrade was so that they could convert their entire database to Epicor version 10. They wanted to have access to their historical records from a single database. Halfway through their upgrade they realized that it was better to re-implement. They wanted a fresh, clean system, and had discovered issues within in their former system that they didn't want to bring in to Epicor version 10. We find that this is a very common scenario for those on prior Vantage systems.
Others may initially select an upgrade because it is faster to implement, in theory, than a re-implementation. Taking this approach can allow you to implement now, and test later. This can be extremely risky and is only suggested if you have impeccable data, and an extremely well organized systems; or a specific need of new functionality in the latest version. Most of the time, the great error we see companies make is thinking with this type of mentality. The reason to upgrade should never include implementation speed as a primary deciding factor.
Generally, to upgrade to Epicor version 10 successfully you should be on the most current version of Epicor and should have a very good understanding of how succinct your data is. By most current version, we mean Epicor version 9.05 for the time being.
In another instance, our client – a producer of engineered gaskets – chose the re-implementation route.  They were on an older version of Epicor, Vantage 6, and instead of migrating that database to the new system, they pulled new data to include in their new system, Epicor 9 (at the time). The historical data is accessible through a specially created dashboard in the new version of Epicor. The upgrade process would have been too cumbersome and would not have allowed them to continuously test throughout and re-engineer some existing methods already in place in the system.
As part of the re-engineering portion, companies are able to rethink their data structures (Customer and Vendor Schemas, Chart of Accounts, etc.), re-train employees, and standardize processes. They are also able to cleanse their data prior to uploading it to the new system. With a re-implementation reconciliation of old data is not go-live necessary because it is stored separately from your new system.
---
Bottom Line (Costs and Options Epicor version 10)
The question we're asked the most: "What's it going to cost? And, what are my options"? It truly depends on what version you are moving from. Glossing over the differences could result in a costly, drawn-out project or worse; complete failure.
The current version of Epicor 9.05 is straight forward unless your firm needs numerous customizations, bpms, and reports. If you have clean data and you feel good about moving to Epicor version 10, there's a good chance you're in good shape. Our organization was able to do this internally without issue.
If you are working with a prior version of Epicor—not 9.05—you have two choices:
You may re-implement your current system. This will require a reentry of all the master data into the new system. Sounds painful, right? Partnering with the right consultant remedies the agony at the onset. Re-implementation delivers a ton of positivity as a result. A new, clean system will not bring problems into a newly implemented ERP. Your team has the opportunitiy to review data before importing it in. There are maybe hundredss—if not thousands—of customer database records not valid anymore. Ultimately this will optimize your data. You can now live headache free knowing your team has reviewed data files and are leaving it out. No irrelevant data can pollute your system.
The second choice is to upgrade straight to the current version from your previous version. This is typically ill-advised. Unless your organization has a very strong handle on your data and full confidence in its integrity, upgrading straight to Epicor version 10 from your previous version is a recipe for errors, pitfalls, and unexpected challenges. To execute something you would need to rely on an internal or external expert to guide you through the specifics of how this could be accomplished.
Ultimately, the choice should not be difficult. Given the information above, your choice should be fairly straightforward. If you're on the current version – and don't have a bevy of customization's – you can likely upgrade to 10 with confidence. If you're on a previous version, your best bet is to re-implement unless you have an expert level understanding and organization of your data, and feel confident in your ability to upgrade without issue.
---
Make the Right Decision
The decision to upgrade or implement is a significant process that will impact your business processes now and in the future. Going through a a tried and true process during the implementation portion will greatly alleviate risks. We're found most customers that fail to analyze their options, or rely on expert opinions, hit roadblocks halfway through as a result of too many problems. This ultimately leads to sky-high costs and some strong headaches. If you do your homework, and follow the advise supplied above, there's a good chance you will succeed where others continue to fall short.
Interested in upgrading or re-implementing? Contact us. We can help determine costs and options Epicor 10.
–
What did you think about this article? Join the conversation below. Ask a question, our team will answer regarding this article "Costs and Options Epicor 10".
–
Suggested: