Sixty one days. Those 61 days from November to December determine holiday sales. The National Retail Federation is projecting 2013 holiday sales to rise 3.9% to $602.1 billion. For manufacturers and retailers supply chain management will contribute to a successful transaction or a shopping fumble. Capgemini, a leading IT services and business consulting company, conducted a survey with significant findings for supply chain managers.
The results revealed more than half of supply chain managers say supply chain issues have negatively impacted company profitability.  Retailers and manufacturers must respond to real-time peak demands in order to assuage and retain customers. Consumers, the findings revealed, are not tolerance of these types of issues. Nine out of ten consumers would go elsewhere for a future purchase if they experienced order fulfillment or out-of-stock issues.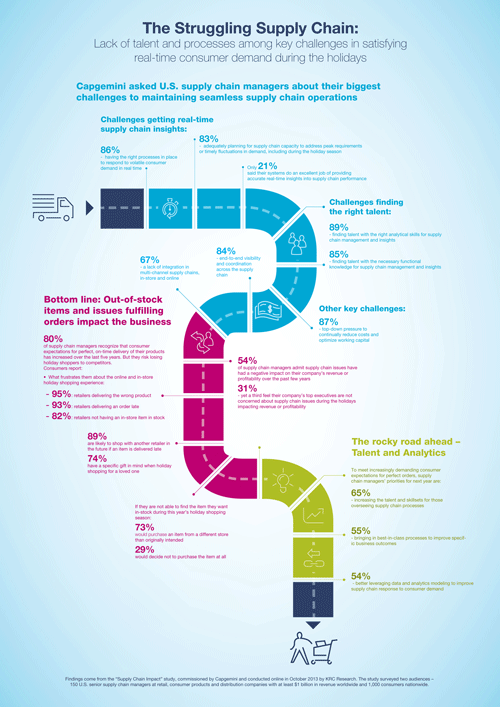 Lack of talent and processes are among key challenges in meeting real-time consumer demand during the holiday season. Economic variables also contribute to the overall optimism of consumers.
"The economy continues to expand, albeit at an unspectacular pace," said NRF Chief Economist Jack Kleinhenz. "In order for consumers to turn out this holiday season, we need to see steady improvements in income and job growth, as well as an agreement from Washington that puts the economic recovery first."
Eighty-six percent of supply chain managers said their challenge in getting real time insights began with having the right processes in place.
Moving forward into the coming year, talent acquisition is going to be a major factor in continued success. Increasing talent and skillsets for those overseeing supply chain processes mattered for 65 percent of managers.  A little more than half want better leveraging of data and analytics modeling to improve supply chain response to consumer demand.
Learn more about augmenting workforce with enterprise software. Follow @Datix on Twitter.