"Do I need CRM? "
"Should I invest in Salesforce or Dynamics CRM?"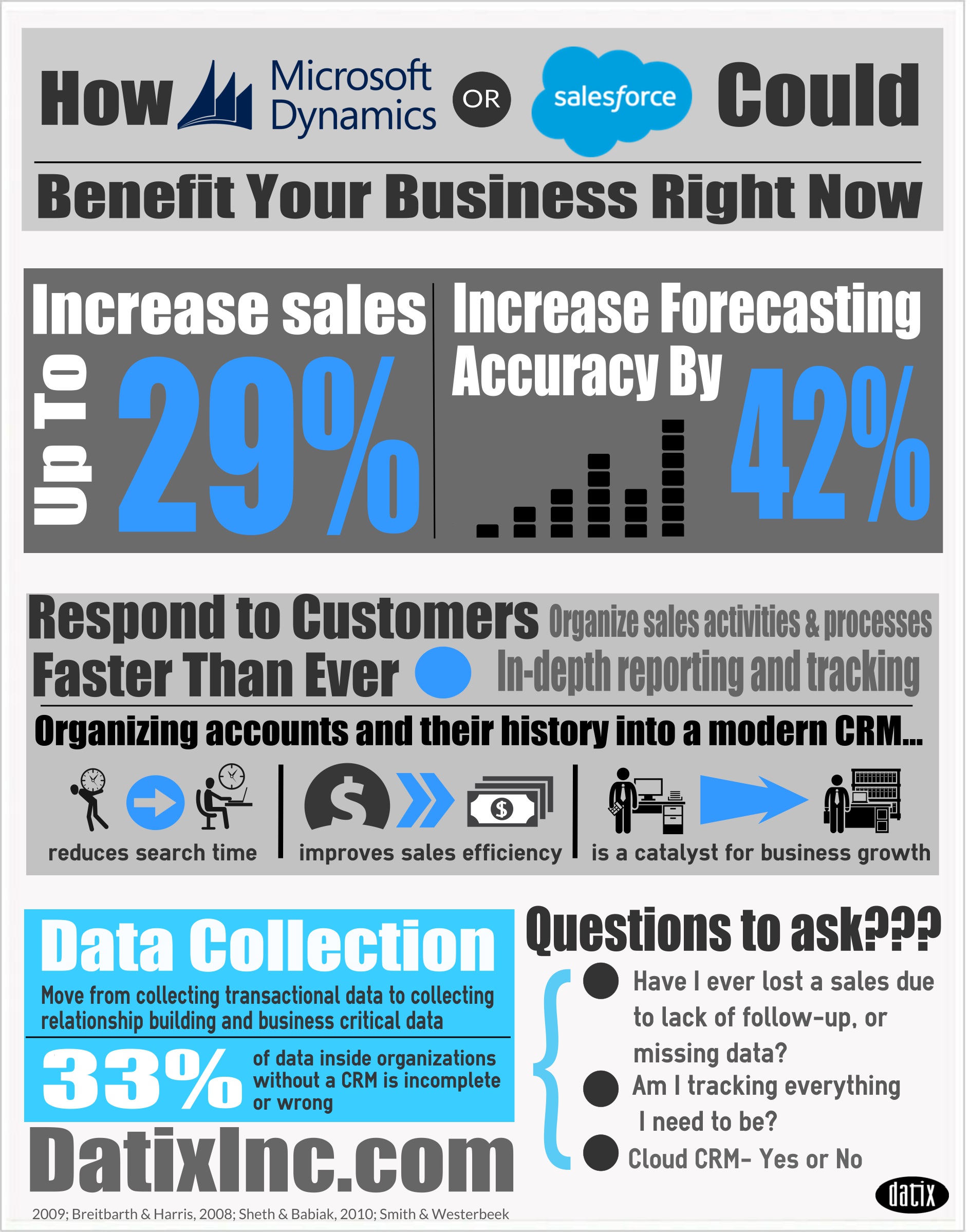 Find yourself asking, "do I need CRM"? Salesforce.com and Microsoft Dynamics CRM are two of the industry leaders, and often at the top of most people's list. It's not uncommon for many to begin their search evaluating both of these systems. The stats compiled above are proven industry-wide over and over again, yet many still are nervous about making the plunge. Why?
Customer Relationship Management is merely a tool. A recent CIO article put it this way, "Buying the best CRM in the world is like buying a Ferrari or Lamborghini. You won't immediately win any races. In fact, by themselves, these cars won't make you a better driver."
Truth is, we recommend you evaluate the CRM system based on how well your company will use it. If it is not tailored to your business, your users will be frustrated and will not get the most from the system. However, if you implement the system properly, it will  measurably increase sales, improve forecasting, and enhance employee productivity.
---
Quick Info on both
---
Salesforce CRM
Salesforce is the world leader in cloud computing and CRM. Their platform allows companies to manage sales, service and marketing functions. With their Salesforce 1 Platform businesses are building apps to connect with customers, employees, and partners. With everything in the cloud, this option is ideal for large enterprises all the way down to small businesses. We tend to recommend Salesforce to our clients who want the flexibility to create their own personalized business apps. Salesforce places an emphasis on building a CRM that allows your sales agents to thrive.
Microsoft Dynamics CRM
Microsoft Dynamics CRM has been rolling out a host of new updates over the past year and several months. These changes make them an ideal fit for a client who is looking to use their Microsoft applications to the fullest. Office 365 interoperability is important for many users. Microsoft Dynamics CRM allows you to make the most of your marketing, customer care and social listening capabilities. The social listening feature allows you to capture and evaluate brand sentiment across multiple channels. Microsoft Dynamics CRM values privacy and adheres to the contractual privacy protections via the European Model Clauses.
---
So… "do I need CRM, and which one do I need"? Determining which platform is best for you is part of the equation. Again, CRM is only a tool and is only as good at the training you receive on the system. Also, how well the system is implemented and how well it meets your business needs will ultimately determine user adoption. Working with a consulting firm to determine use case modeling and then CRM training can make the initial investment worth it years later.