If you type "ERP Vendor" into Google you will receive approximately 5 million results. Getting from 5 million to a single choice can be challenging. Tom Miller, of ERP Focus, aptly wrote an article called: 4 Mistakes You will Make When Building an ERP Vendor Shortlist. His suggestions are poignant for those looking to select ERP software in general, but what about ERP software for discrete manufacturing?
---
Selecting the Best ERP Software as a Discrete Manufacturer
Add "manufacturing" to the mix and the list gets reduced down to about 2.7 million. The vast number of options and suggestions in this space is daunting. We recommend taking a look at a neutral source, such as Software Advice, to get a better idea of what they recommend and what users have to say about the software.
Software Advice is an excellent review service that has helped companies in various industries make the best software selection for them. They judge various manufacturing ERP software solutions based on:
Ease of Use
Functionality
Product Quality
Customer Support
When looking at a vendor or a consulting group, make sure you feel completely comfortable with your option.
Tom Miller cautions every company on your shortlist needs to be vetted. Make sure, Miller adds, you know the consultants technical backgrounds, where they have worked before. What about the company's financial background? Past successes? "You just can't be too careful," Miller says.
He also recommends getting your shortlist to about 3 or 4 to avoid burning out before the implementation even begins. We think this is excellent advice. "You have to select a vendor and an ERP to get the value you need," Miller adds.
We also recommend looking for a solution that will fit the size of your manufacturing company. Getting a solution at the best price that will also expand and be easy to update as you grow will save headaches years later.
Miller also cautions against relinquishing control of your search and later on the ERP project. Having a balance here will save you, "the later cost when you find you never learned how to manage the ERP when you want to change something next year."
If you need extra help with the requirements gathering, this is where selecting a consulting firm in the beginning can be useful. Make sure your requirements are not lost in translation from what your team needs to what the vendor on consulting group thinks you need.
---
Considering an excellent solution as a discrete manufacturer?
Epicor is a solution Software Advice recommends for discrete manufactures over the $1 million mark.  What they say about Epicor: "Epicor ERP is a fully integrated ERP solution with extensive functionality for accounting, inventory control, pre-production materials planning, and manufacturing execution (MES). The system is delivered either on premise, hosted, or as a cloud-based Software as a Service (SaaS) offering."
We work with Epicor because they have the best technology, one of the easiest to use interfaces, the system is very complete and agile. You can customize it to meet your needs where your company does not fit the out of the box configuration.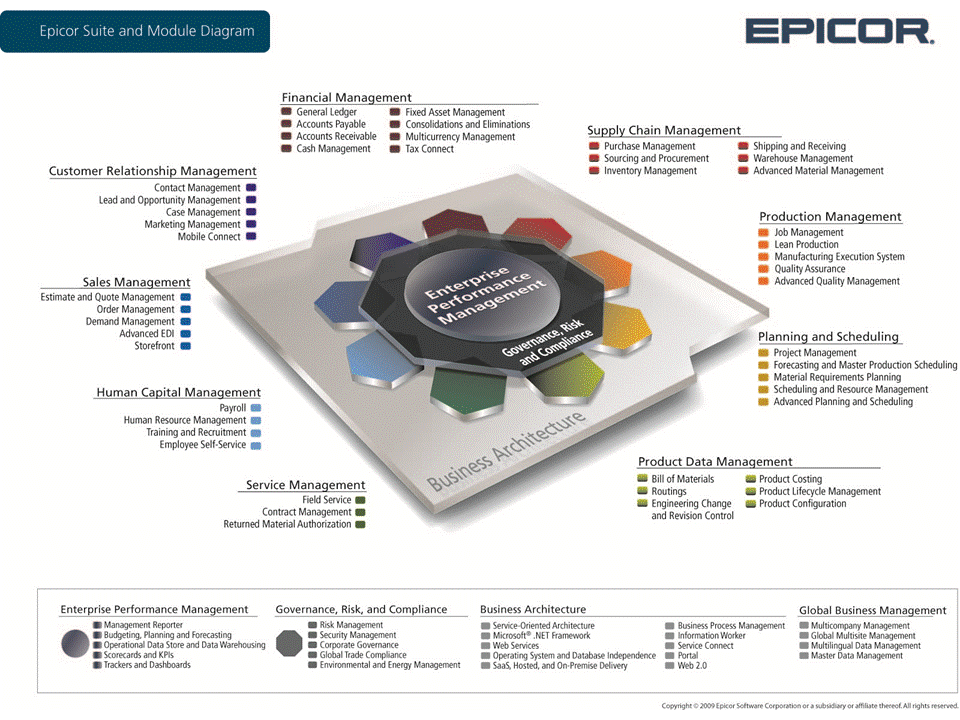 We also selected and recommend Epicor ERP because of its ability to be integrated with CRM (customer relationship management software) and even ecommerce solutions.
Working as independent consultants, means we are able to dedicate as much time as a client needs to a project. Epicor offers buyers the ability to opt into additional modules for supply chain management, product lifecycle management (PLM), business performance management (BPM), customer relationship management (CRM), and quality performance management (QPM).  If you have multiple locations nationally or internationally, Epicor has you covered. Epicor ERP can be deployed in a single site or as a multisite multinational enterprise version.
"We have always recommended Epicor to manufacturing firms due to the system's popularity, functional depth, and functional breadth," according to Software Advice's review.
If you need help narrowing down options or want to talk to an ERP consultant about the selection process feel free to reach out to us. Check us out on Twitter @Datixinc.