Integrate your Microsoft Dynamics 365 CE, Salesforce, or Hubspot with ERP
For modern manufacturers and value-adding distributors, the most effective way is to make daily operations their greatest competitive advantage. That's why Datix created Unity integration platform. Our pre-built integration applications provide businesses like yours the ability to connect all of your software into a single source of truth.
When front-office and back-office data are shared through integration, a business can expect better sales performance, increased sales productivity, improved customer service, and introduces the potential to more flexibly deliver tangible value to customers.

Unity for Microsoft Dynamics 365 CRM and Epicor® Integration
Microsoft Dynamics 365 CE and Epicor® integration is a powerful way to streamline processes while saving valuable time and resources within your business. We have encountered many clients looking to quickly and affordably connect their Epicor® data with their fundamental contact information from their CRM. This is why Datix offers a pre-built managed Unity app for Microsoft Dynamics 365 CE and Epicor® integration. The synthesis of the two couldn't be easier.
Now a Microsoft Dynamics 365 CE integration is possible for Epicor® ERP users who want real-time information from their Microsoft Dynamics 365 CE system and vice versa.  This continual transfer of data between your ERP system and CRM integration allows for deeper insights into customer buying habits, accounting data, shipping information, and many other key functions, with no coding or platform visible to your end-user. Only the incredibly valuable shared data integration passing through our Unity software connector. No more wasting time, dropped clients and most importantly no more dual-entries!
Datix is certified Dynamics 365 CE integration partners with extensive experience providing these integrations to manufacturing industry sectors and value-added distributors. Our consultants and developers built Unity connector to leverage the power of your systems to fit your unique business processes and needs.
Unity: Easy Microsoft Dynamics 365 CRM and Epicor® Integration
Find out just how easy Microsoft Dynamics 365 CE and Epicor Kinetic integration can be by contacting us and getting a demo set up! Unity requires no coding – only configuration – leading to to installations that can be implemented in no time at all.  Keep your users happy by eliminating the need to input CRM data into your ERP database, and avoid the inherent human error that can go in hand-in-hand with required double entry of client data.
Unity is an easy choice to unleash the power of ERP synced with personalized customer data from Dynamics 365 CE. Quite simply, it is the only quality integration tool worth trusting your business with on the marketplace today.
Why Unity for Microsoft Dynamics 365 CRM and Epicor®?
The Datix team has been helping businesses integrate Microsoft Dynamics 365 with Epicor® for the past several years, and has parlayed that experience into an affordable managed solution. Our products are pre-built connection platforms that simply allow data to go from one system to another seamlessly and easily.
Our Unity application is managed by an expert team. That means once you purchase the app that you will always be operating on the most up to date version. Any changes or updates that are made will be seamlessly transferred to your product ensuring that you have the most up-to-date features and optimizations. We also take care of customer service and support for all of our Unity products. This means that an expert consultant is available to assist with any questions regarding the application—something going wrong with your connection, or just have a question about an update? We're on the other end of the phone ready to help.
Epicor® ERP is a system that masters the complexities of running a large-scale manufacturing, distribution or retail business. Cindy Jutras, vice president and group director at Aberdeen, wrote in a recent Market Alert, "While other ERP vendors have announced similar strategies, Epicor® is the first to deliver on its promise of convergence while also extending functionality and promising 'ERP Everywhere' and 'Business without Barriers'."
Why Microsoft Dynamics 365 CE?
Microsoft Dynamics 365 CE makes business personal by offering better sales and sophisticated customer care. "CRM today should be an enabler that detects trends, facilitates decisions and suggests actions that lead to successful outcomes and relationships," said Bob Stutz, corporate vice president of Microsoft Dynamics 365. "This major new release delivers on this promise of customer centricity by bringing together Microsoft technologies in a way that helps businesses and organizations better engage and nurture their customers." Learn more Microsoft Dynamics 365

Easily Integrate Salesforce CRM with Epicor® ERP
Salesforce Epicor® integration can provide powerful changes to your business almost instantly. Imagine your sales reps being able to access critical inventory info through their mobile, or being able to plan your manufacturing schedule around planned future demand. With our flagship product, Unity, you can have all of that! Unity for Salesforce is a managed application that allows direct communication and seamless integration between Salesforce and Epicor® (using web services!). What is the result? An affordable, rapidly deployable Salesforce and Epicor® integration solution. Now you can maximize your investments in Epicor® and Salesforce software by giving your management up-to-date, synced business data, accessible in new ways, and on new devices.
Why Unity — Salesforce Epicor® Integration?
Datix is a certified partner of Salesforce and has extensive experience working with Epicor®. We are also the only servicing consultant of both vendors that offer any form of a custom integration platform. Be sure to put your data in the right hands.
Our Unity solution is pre-built and managed by our expert team. It is both powerful and flexible, which means we've left plenty of room for you to fit the app into your business processes. Datix provides regular app updates and optimizations, and supplies expert-level support from real Datix ERP and CRM consulting experts at no additional charge.
Our app uses web services to ensure these two systems can communicate, both in real-time and on a schedule. Many other integration solutions use outdated methods to supply this functionality. Datix is the only solution on the market to use web services for this integration to occur. This allows your business to enter the world of the modern enterprise and stay competitive.
Seamless Salesforce Epicor® Integration
When your team needs access to accounts, contacts, call history, shipments, and invoices (paid and unpaid), you're covered. Is your team often on the road or not near a computer? Unity puts inventory information, product details, sales literature, and other critical data and content in the hands of your sales and customer service teams; wherever they are, whatever device they're using.
Datix takes Salesforce and Epicor® integration one step further by integrating your CRM with your marketing automation software with customization tools from our development experts. No maintenance or coding is required. Additional integration options and data fields are available to suit your business requirements. The average deployment of a total Salesforce Epicor® integration solution takes less than 3 weeks. You could be benefiting from total enterprise interconnectivity in under a month!
Salesforce Epicor integration is an example of how we provide a sophisticated, but simple solutions. For us, integrating Salesforce and Epicor is simple, and we try to make our clients feel comfortable by walking them through each and every step. We've built the Unity platform for an easy connection to your existing system, to integrate the data you need, while leaving room for you to customize your own Salesforce to Epicor® data passes.
To suit your unique business processes, we've organized a method of purchase that allows organizations to create a completely custom experience, receive expert help and support, and only pay for what they require and use. Unity is the most cost-effective solution for this kind of integration on the market. Contact our team to receive information about standardized pricing for the app! Our experts can also discuss possible customizations you're looking for and give you price estimates tailored to your needs.
Take a look at our pricing estimates for your integration to see if Unity is right for you.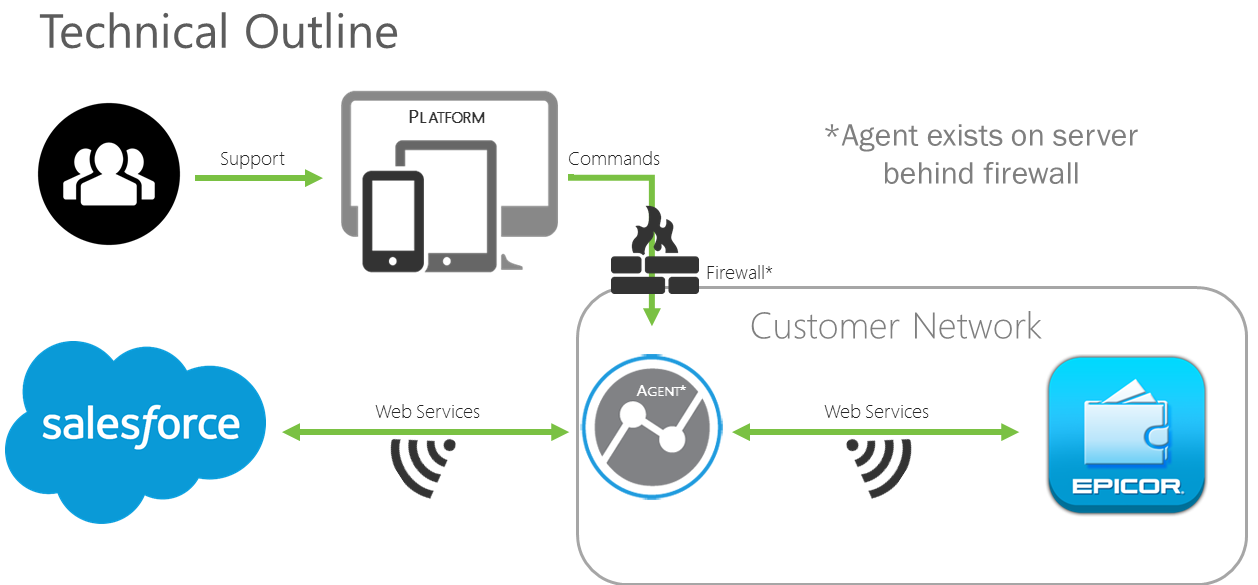 Epicor® 9 and Epicor® 10 are premiere enterprise ERP systems ideal for manufacturers, distributors, and professional service providers. Epicor® software is tailored for industry-specific functions and has a full range of services including supply chain management, accounting, and invoices paid and received. Ideal for mid-market businesses or those poised get there soon, Epicor® ERP is your unified, integrated software solution.
As the leading cloud-based CRM tool, Salesforce builds stronger customer relationships for manufacturers. Connecting with customers is more important than ever. Social tools and mobile increase chances to make a positive impression on customers. Salesforce is the platform that will allow you to get closer to customers and help drive sales and marketing drive demand.

Unity for Epicor® ERP Integration
Modern business success is all about providing personalized customer experiences. However, marketers notoriously struggle to leverage customer data to optimize content and strategies across multiple channels. In fact, one survey found that nearly 70 percent of marketers lack visibility into customers and their buying preferences. Without grounding their plans in concrete data, marketers aren't fully engaging with prospects and current customers to drive sales.
To eradicate gaps in processes and visibility, Datix designed Unity for HubSpot and Epicor® ERP. Unity is a pre-built, flexible solution that seamlessly integrates Epicor with a variety of front-end systems, such as HubSpot. Epicor®, a leading ERP vendor for manufacturers and distributors, consists of comprehensive modules that grant full control over an array of critical back-end processes. HubSpot is a Marketing Automation solution that helps users manage digital marketing strategies, including website content, search engine optimization (SEO) and email campaigns.
Unity updates data between both systems in real-time to power 360-degree insight. The application also automates workflows without any coding required on the client's end, making it easier than ever to streamline business processes. When you connect HubSpot and Epicor® using Unity, you gain a single source of truth to enhance enterprise performance.
Why Integrate HubSpot and Epicor®?
On their own, HubSpot and Epicor® introduce a higher level of efficiency and visibility into your business. HubSpot's all-in-one marketing solution simplifies digital marketing and website creation with drag-and-drop tools and responsive templates. Without coding, you can track your campaigns and website performance to execute effective inbound marketing strategies. Epicor® ERP makes back-end data accessible through dynamic dashboards that offer real-time insight, accurate forecasts, and sophisticated tracking at your fingertips.
But you don't want your front and back offices working in silos. Integration maximizes the value of your software by expanding insight and fueling productivity from end to end of your enterprise. Connecting HubSpot and Epicor® can help you achieve the following business improvements:
Eliminate Dual Data Entries: Maintaining separate systems means manually entering data into multiple places, increasing the risk of human error, and wasting valuable time. Our integrations are bidirectional, meaning that any data entered in one interface is immediately updated in the other. For example, a contact entered in HubSpot is instantly available in your Epicor® instance, and any changes to that contact will be reflected in both platforms. By updating information in both your HubSpot and Epicor® instances in real-time, Unity ensures you maintain total accuracy throughout your customer relationships.
Enhance Visibility: With automated data synchronization comes better transparency. Rather than dig into the Epicor® platform or contact back-end users, marketers can immediately access critical insights, such as quotes and orders, in HubSpot's user-friendly platform. This proves especially important for businesses that rely on third-party distributors. Orders through a third party aren't captured in HubSpot, but they are captured in Epicor®. An integration will sync these orders to your Marketing Automation instance to give marketers the information they need to engage with customers.
Personalize Customer Experiences: Most manufacturers and distributors depend on repeat business. A HubSpot and Epicor® integration helps marketers capitalize on opportunities for each customer. When customers make orders, they can immediately receive relevant emails and content for additional services, related products, or exclusive discounts. Connecting HubSpot and Epicor makes personalized customer service fast and easy, helping you boost your brand's reputation.
With front and back-end data housed in one solution, users throughout your enterprise gain an unprecedented level of productivity. Delivery and production teams can achieve on-time order fulfillment, marketers can win more up-sell and cross-selling opportunities, and employees can spend their time creating new strategies and refining processes rather than manually entering data. An Epicor® ERP and HubSpot integration lay the groundwork for digital transformation and business performance optimization.
Datix: Software Integration Experts
Not all software integration solutions deliver on their promise. Some immediately fall victim to bugs and glitches. Others require extensive customizations to support the most basic bidirectional sync points. Datix's consultants and developers leveraged their software expertise and industry experience to create Unity, a pre-built integration application that makes it easy for anyone to maximize the value of their software.
Our Unity solutions connect Epicor® ERP with an array of front-end systems, including HubSpot, Microsoft Dynamics 365 CE, Salesforce, and Magento. Datix's premier consultants rapidly install Unity, so you can start gaining ROI in no time. The application for HubSpot automatically syncs contacts, deals, and more out of the box, and our consultants can easily customize your solution to support additional needs. Furthermore, we take care of maintenance and updates at no extra cost, ensuring your integration offers long-term business improvements.As a service consultant that has executed over 50 software connectors, Datix is a leading consulting firm for ERP implementations and integrations.
We've specialized in helping manufacturers and distributors solve real issues for over 20 years. With our Unity integration solution, connecting HubSpot and Epicor® is a no-brainer. Our scalable, affordable application empowers businesses of all sizes and across several industries to combine their software systems into one robust solution.To see what Unity for Epicor® and HubSpot can do for your business, check out our video demo, and contact us today to schedule an in-person demo and learn more about our services and solutions!