Take Excel to the Next Level with Power BI
As part of our series of Microsoft Dynamics Convergence 2014 Lunch and Learns we covered the topic of Power BI. Power BI for Office 365 allows you to use Excel to discover, analyze and visualize your data. Mobility makes access available on any device, wherever, whenever you need your data.
Why Power BI?
When the right executives know how to get the right information from data they are able to gather valuable insights. You will have the ability to associate messages with data sets and answer specific questions. Get the right information into the hands of your customer service representatives.
Microsoft Excel Web App
Power BI Features and Services
---
Discover
Discover and connect to public and corporate data sources. Search and find relevant data with Power Query for a list of available data sources that match your criteria.  You will have access to every table in Wikipedia and the public census. Extract data from compatible sources including:
A web page
Access Database
Excel or CSV file
Text file
Folder
MySQL Database
Facebook
OData Feed
Then view and clean your data prior to compiling in a spreadsheet. You can now merge your data from multiple sources for easy analysis in Excel. Simple natural language makes it easy for others to explore the data.
Analyze
Create the models in a platform that is designed to handle sophisticated data models. Power Pivot allows you to create your own data model with the ability to refresh from the original source. Manage the model without needing to be a SQL expert with the simple drag and drop Diagram View.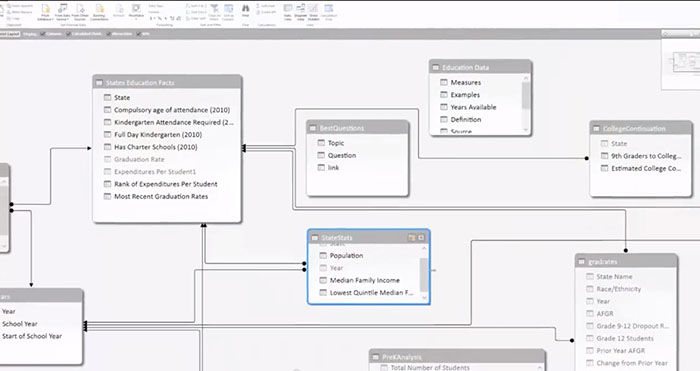 Visualize
Power View allows you to create visually stunning and interactive charts and graphs in Excel. Presentation ready reports from Power View come from real data and are fully interactive when using SharePoint.
Power BI Q&A
Microsoft updated their Q&A feature for Power BI. Use natural language queries to find answers in your own data. Your data is presented visually and is powered by in-memory storage for nearly instantaneous responses.
---
Please let us know if you have any other questions about Power BI. And be sure to follow Datix on Twitter @datixinc.